Jeff Goldenberg, MD
Board President and Founder
Talia's father, Jeff, is well-acquainted with the way medicine is practiced in North America, having been a doctor for almost 30 years. Jeff completed a residency in Family Practice at McGill University in 1990 and worked as a family physician with Oregon Medical Group in Eugene, Oregon (where he variously sat on the board, chaired the IT Committee, the Patient Care Committee and the Operations Committee) from 1991 until Talia's death in 2014. As a father and a doctor, Jeff's voice carried no weight when he tried to advocate for Talia and get her medical providers to pay attention to the care she needed (care that would have saved her life).  Jeff is now on a mission (along with Talia's mother, his wife Naomi) to get medical, administrative, and support staff to listen, hear, believe and act on behalf of their patients so that no other patient experiences the kind of unnecessary death Talia did, and no other parent experiences the kind of devastating loss that he and Naomi have. He misses his daughter Talia beyond measure, certainly beyond what words can describe.
Naomi started Talia's Voice with her husband, Dr. Jeff Goldenberg, after their daughter Talia died from medical errors. Naomi is a devoted mother to six-minus-one: two she gave birth to, two who joined the family nearly 20 years ago after their mother committed suicide, and two she adopted from Ethiopia in 2010. Naomi completed a Master's program in Counseling Psychology at UBC in 1988, and every one of her children has experienced serious and lasting trauma, so she is comfortable with and well-versed in topics related to grief, death, anger, resilience, heartache, and loss. She has also accrued a wealth of experience—sometimes for better and often for worse—in hospitals across North America, most often as an advocate for members of her family. In her role as a patient advocate, Naomi currently sits on multiple committees at the Collaborative for Accountability and Improvement, and is on the Planning Committee for the annual Northwest Patient Safety Conference. She believes that genuine human connection leads to meaningful relationships—and is key to reducing medical harm. Naomi misses Talia terribly, every minute of every day.
Aimee Promislow
Secretary
As an artist and entrepreneur, Aimee has started and run several businesses over the years, but her finest accomplishment is raising two young boys into men. She has known Naomi and Jeff since her early 20's, meeting them at the same summer camp where they met each other. Jeff and Naomi and their kids used to stay with Aimee and her family on trips to Vancouver, and over the years they have come to see each other as extended family. As a fellow artist, Aimee was especially moved by Talia's work. Talia had a gift for making people feel special, and Aimee was privileged to be on the receiving end of that.  She is the only member of the Board of Directors currently living in Canada.
Teresa Shlesinger
Treasurer
Teresa is currently a bookkeeper in Eugene. She received her BA from Willamette University. Teresa has always been deeply involved in her community, coordinating fundraisers for her children's schools and their sports teams, and as a volunteer at many community events. Teresa and Naomi have been friends ever since their youngest kids became friends back in elementary school.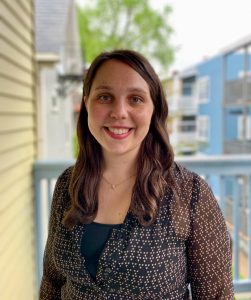 Rebecca Gourevitch
Rebecca is an Assistant Professor at the School of Public Health at the University of Maryland, College Park. She studies issues of health care quality and access, particularly related to maternal and child health. She teaches about health care policy in the United States. In addition to her professional interest in the mission of Talia's Voice, she was lucky enough to be a close friend of Talia's at Carleton College. Rebecca lives in Silver Spring, Maryland with her husband Mike.
Leslie Kean MD, PHD
Leslie Kean is the Director of the Stem Cell Transplant program at Boston Children's Hospital and the Dana-Farber Cancer Institute. She received her BA from Case Western Reserve University, an M.Phil from Cambridge University UK, and her MD and PhD from Emory University. She is a pediatric hematologist/oncologist and bone marrow transplant specialist. Leslie is also active in global health, with a focus on working with physician partners around the world to bring care to all children with cancer and blood disorders.  Leslie leads a large research and clinical group, and through this work is passionate about the issues of communication and the importance of listening to patients and families in order to provide the most effective care.
Jeff Kirtner
Jeff has personal and professional connections to Talia's Voice. He is a health care law attorney at Hershner Hunter, LLP in Eugene, Oregon, where he represents physicians, physician groups and health care providers. He has been a patient and so have his loved ones. And he is Talia's uncle. Jeff graduated from the University of Texas School of Law with a JD in 1995, from the University of Michigan with an MS in computer science in 1992, and from the University of Chicago with a B.A. in 1981.
Elizabeth (Lizzie) Reis
Elizabeth Reis is a professor at the Macaulay Honors College at the City University of New York where she teaches courses on Medical Ethics; Reproductive Technologies; Gender, Sex, and Bioethics; and Disability Studies. She graduated from Smith College and received her Ph.D. in History at the University of California, Berkeley. Reis is the author of Bodies in Doubt: An American History of Intersex (second  edition 2021); Damned Women: Sinners and Witches in Puritan New England; and the editor of American Sexual Histories. She has published essays in the Hastings Center Report, Bioethics Forum, Journal of American History, Perspectives in Biology and Medicine, the New York Times, and TIME Magazine. Reis is a member of the Ethics Committee at New York Presbyterian Weill Cornell Hospital and an editor of Nursing Clio, a collaborative online journal that focuses on the intersection of gender, history, and medicine. Talia and Lizzie's daughter Leah met in preschool, were friends Talia's whole life, and their families remain close to this day.
Rusty Rexius
Rusty is the Co-President of Rexius Forest By-Products, an 80 year old, fourth generation, family business in Eugene.  His wife, Susie, has been a life-long friend of Naomi, and his twins, Trevor and Tyler, grew up with Raya and Talia.  Rusty's "volunteer life" has been spent primarily working in the pollical and business arenas.  He has served on a variety of boards and commissions including a 7 year term on the City of Eugene's Sustainability Commission.  He is past Chairman of the Board of the Eugene Chamber of Commerce and served for nearly 20 years on the Board of Governors of Gutenberg College, a small Liberal Arts College in Eugene.  He is currently serving as a member of the Pleasant Hill School Board.
Adrienne Steckel
Adie Steckel (she & they) is the Grants Specialist at Cascade AIDS Project, an HIV/AIDS and LGBTQ+ healthcare nonprofit. She also co-edits a nonprofit press and literary record label called Fonograf Editions. Her connection to Talia's Voice is deeply personal, as Adie is part of Talia's big, non-traditional family—Talia was like her sister. Adie studied Ethnic Studies at the University of Oregon and now lives with her partner Anna in Portland.
Stewardship Council
Jeff Goldenberg, MD
Naomi Kirtner
Elizabeth Reis
Rita Radostitz
Deborah Fuerth, MD
Jane Gibbons