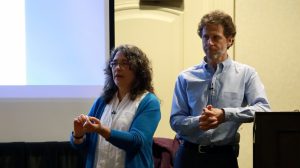 Sharing stories is fundamental to the human experience. A story itself is often moving, healing even. But stories are also powerful because we are often moved to action after hearing them. In Talia's case, she entered the hospital an otherwise healthy 23 year old and never walked out. What happened to her? Jeff and Naomi are educated, articulate, medically knowledgeable, experienced as patients and patient advocates, and they witnessed nearly every interaction and event that took place from the moment Talia was out of recovery until her death. They are poised to help those in the medical field to understand what can and did go wrong with their daughter's care. Talia's story is a microcosm of a bigger story about what occurs in hospitals and medical settings everywhere. The story itself is riveting, but Jeff and Naomi's analysis of what happened and why will help individuals and institutions as they navigate ways to keep patients like Talia safe and alive, and how best to avoid devastating outcomes like hers.
Some possibilities to consider:
Large venues
Small groups
Formal presentations (hour long talk with Q&A)
Round table discussions
Follow-up with administration or department heads
An art exhibit of Talia's work to deepen the meaning of the presentations (traveling show)
Let us know what might work for you or your institution/organization, and feel free to contact us with any questions about presentation possibilities.
"There is a buzz in the house from your visit." — Jon Friedenberg, COO, Marin General Hospital